GEFFA Spring Flag Development Camp
---
Schedule
May 2, 9, 16, 30 (postponed due to COVID restrictions) & June 6, 13, 20, 27
*Schedule will be revisited once restrictions allow for outdoor sport.

Please visit refer to our website, or to previous emails for confirmation of your child's team color.
Location
EFFA Flag Football Fields (located behind Taylor College and Seminary)
11525 - 23 Ave, Edmonton Alberta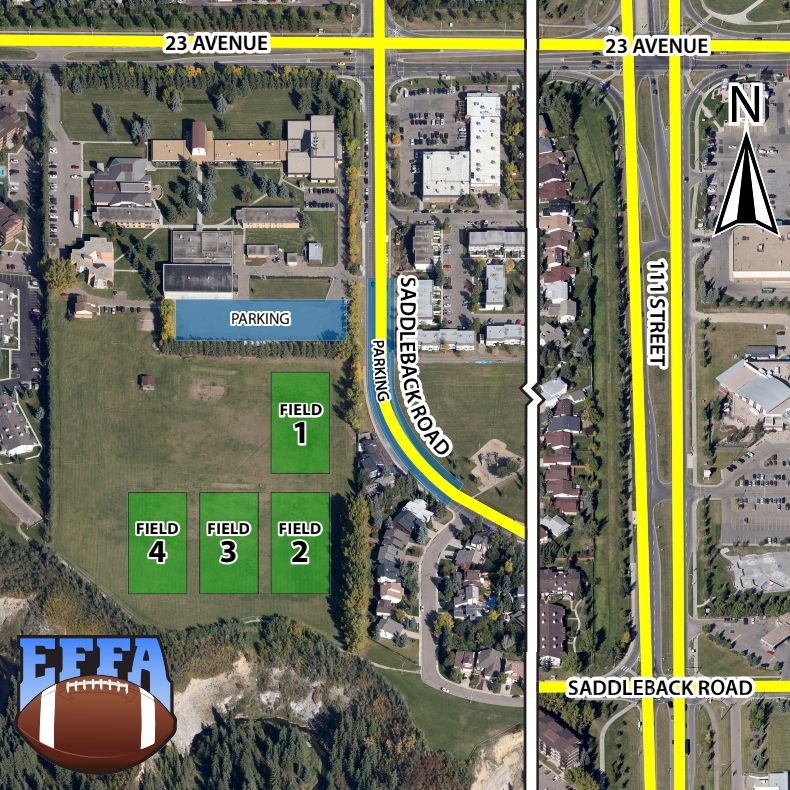 Sessions will run on Fields 1 and 2.
Arrival + Departure
Please arrive no more than 15 minutes prior to your athletes designated time slot. The check in station will be set up between the playing field and the parking lot. Check in is mandatory. Players are not to enter the playing fields until instructed to.
We ask that players depart immediately after their session so the next groups can begin.
Spectators
As per AHS guidelines spectators are not permitted. We do recommend that parents stay in their vehicles or in the parking lot. Any parents within the playing field will be asked to leave the area. We also ask that you avoid gathering in groups.
COVID Restrictions + Safety
The following are the current COVID restrictions that our organization must operate under. These are taken directly from the Government of Alberta website.
Maximum of 10 total individuals, including all coaches, trainers, and participants.

Indoor and outdoor playing surfaces (for example, arena, field, court or swimming pool) may be occupied by more than one youth group, as long as 3-metres of physical distancing can be maintained between groups of 10 and the groups do not intermingle.

Physical distancing must be maintained between participants at all times:

3 metres physical distance for indoor activities

2 metres physical distance for outdoor activities

Coaches or trainers may enter physical distancing space for brief interactions with participants (for example, to correct form or technique)

Participants must be masked at all times, except during high intensity physical activity. Coaches and trainers must remain masked at all times.
These are restrictions put out by AHS and the Alberta Government. GEFFA and our staff have ZERO ability to control or change said restrictions. We are simply doing our best to provide quality programming while falling under the restrictions laid out for us.
GEFFA will also be taking the following safety precautions:
All players will be screened for COVID symptoms prior to entering the playing field.

All players will sanitize their hands before entering the playing field.

All players MUST maintain a minimum of 2 meters of distance between them and other players at all times. NO EXCEPTIONS. Any players who continually breach physical distancing parameters may be asked to leave practice.
Contact Tanya Walter at admin@edmontonflag.com with any questions or concerns.